Last Monday's Gravity Enduro;
Thursday's Road Race;
More thoughts on Thursday; and
Doing something about ADHD.
Dirt Crits
A great night at Dirt Crits on Monday 30 October with a Gravity Enduro - three timed mainly downhill runs - with the best total time declared the winner.
Matt Empey was initially given the win but after checking, the winner was Kian Lerch-MacKinnon (on his XC hardtail!)
Here are the results.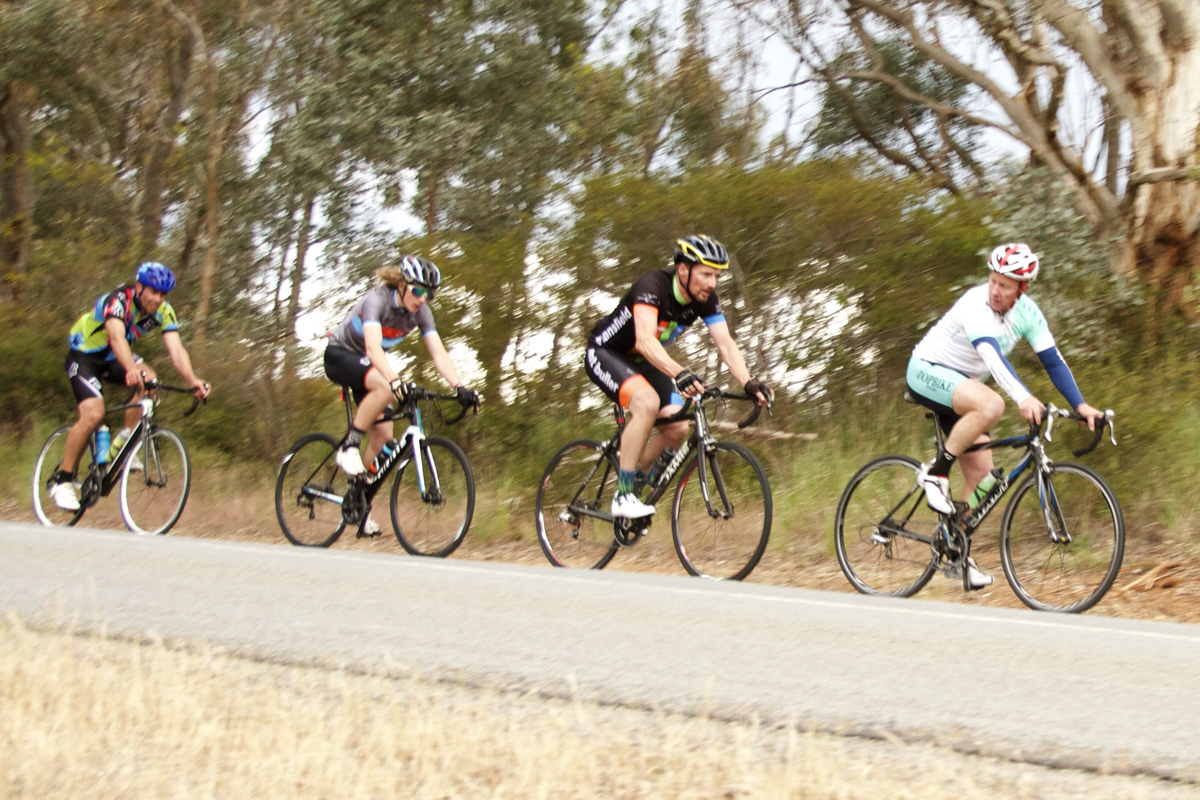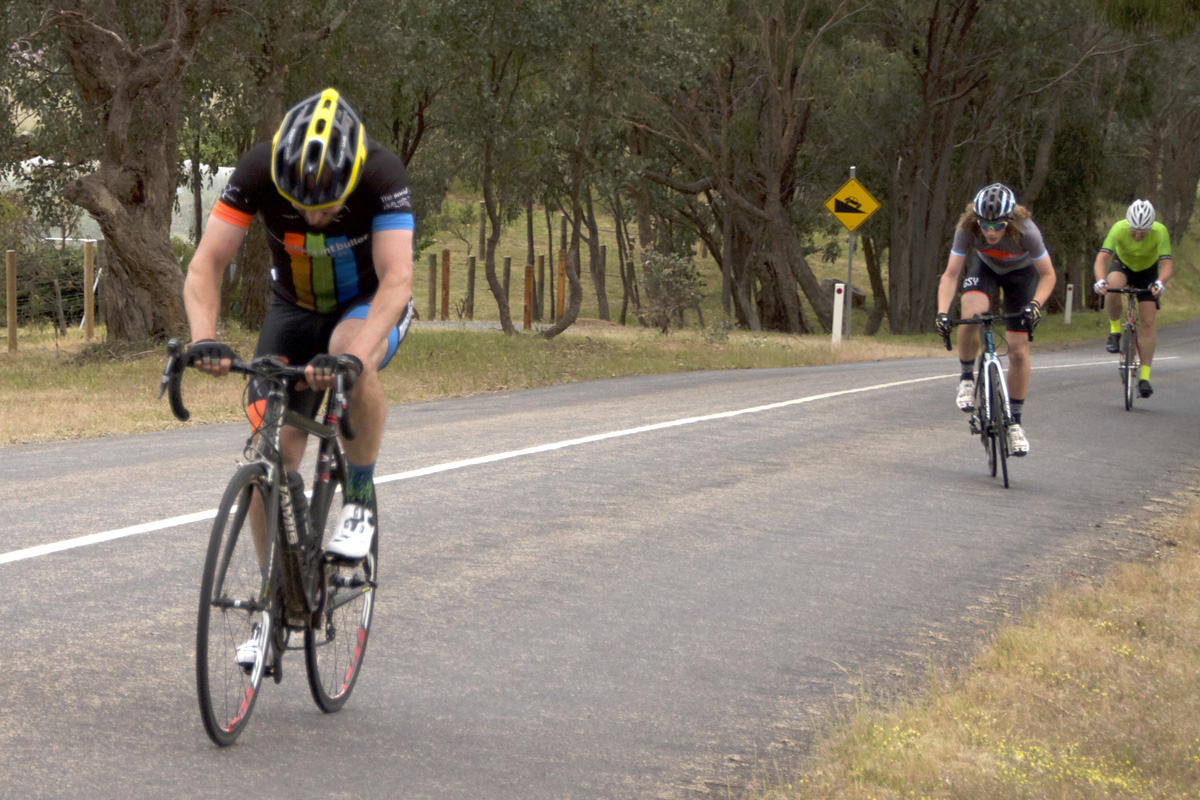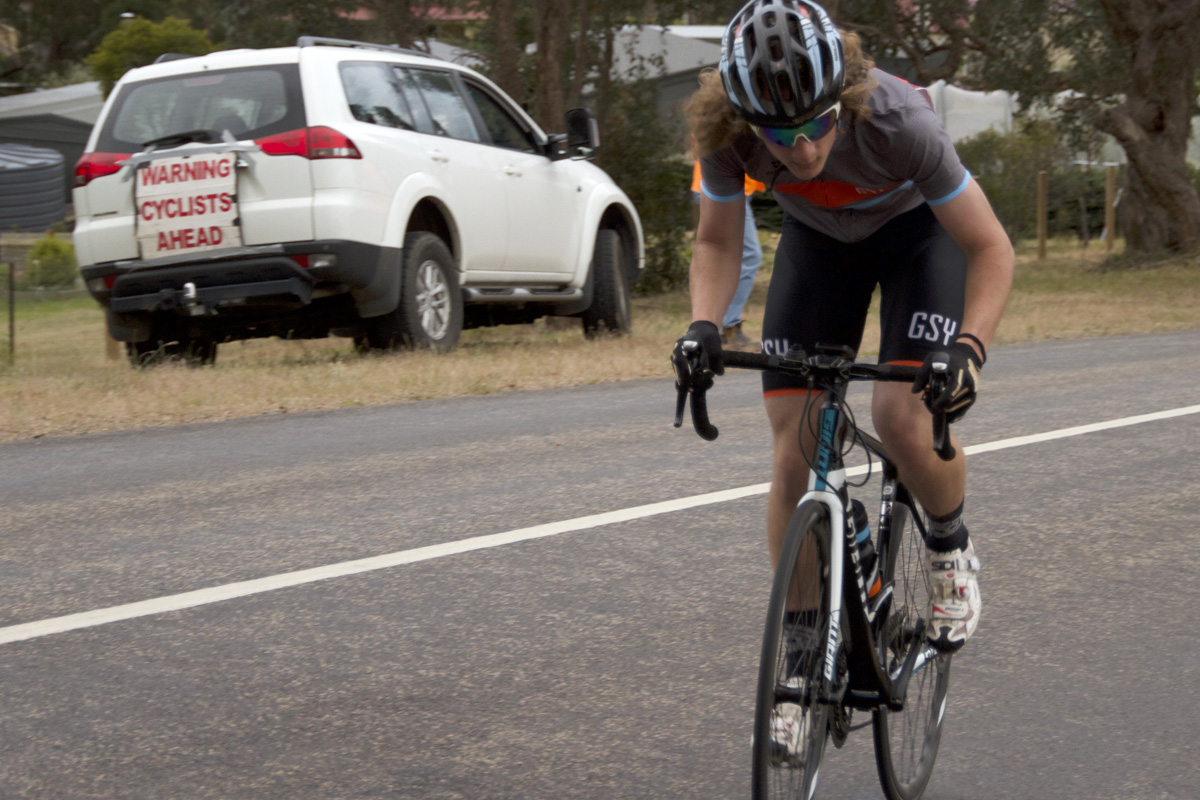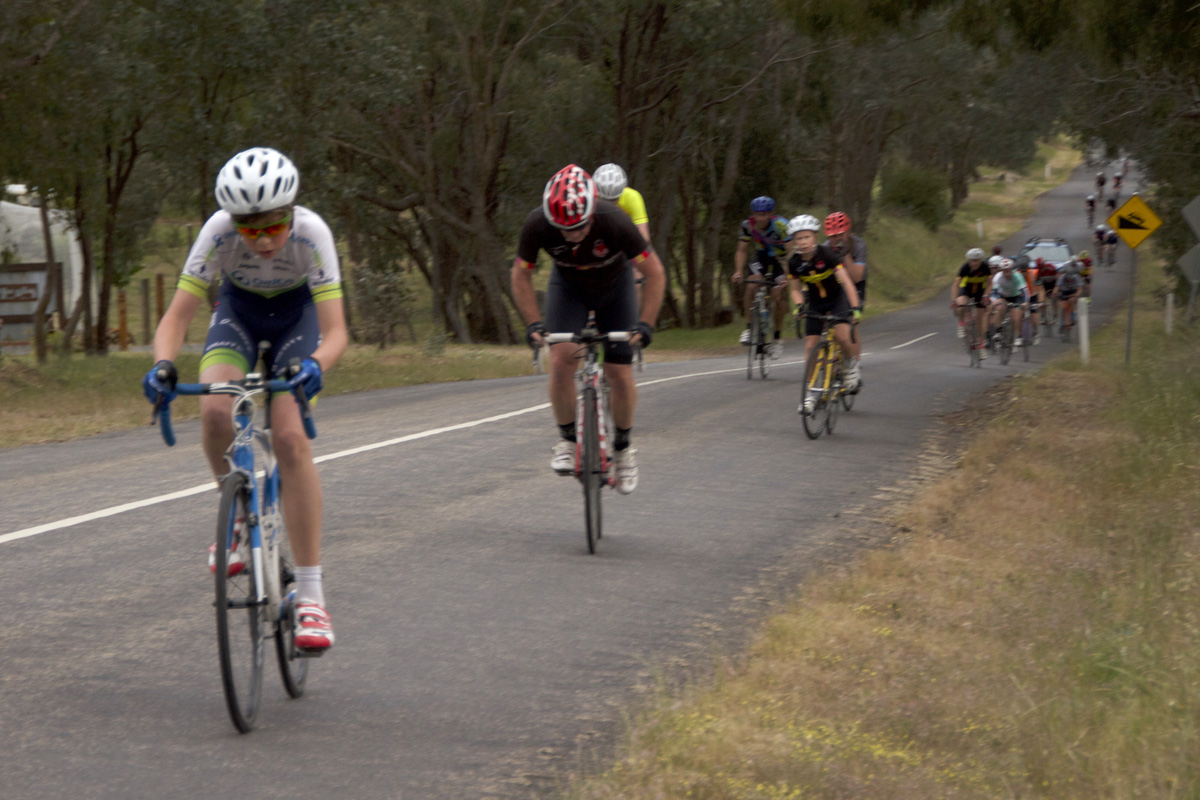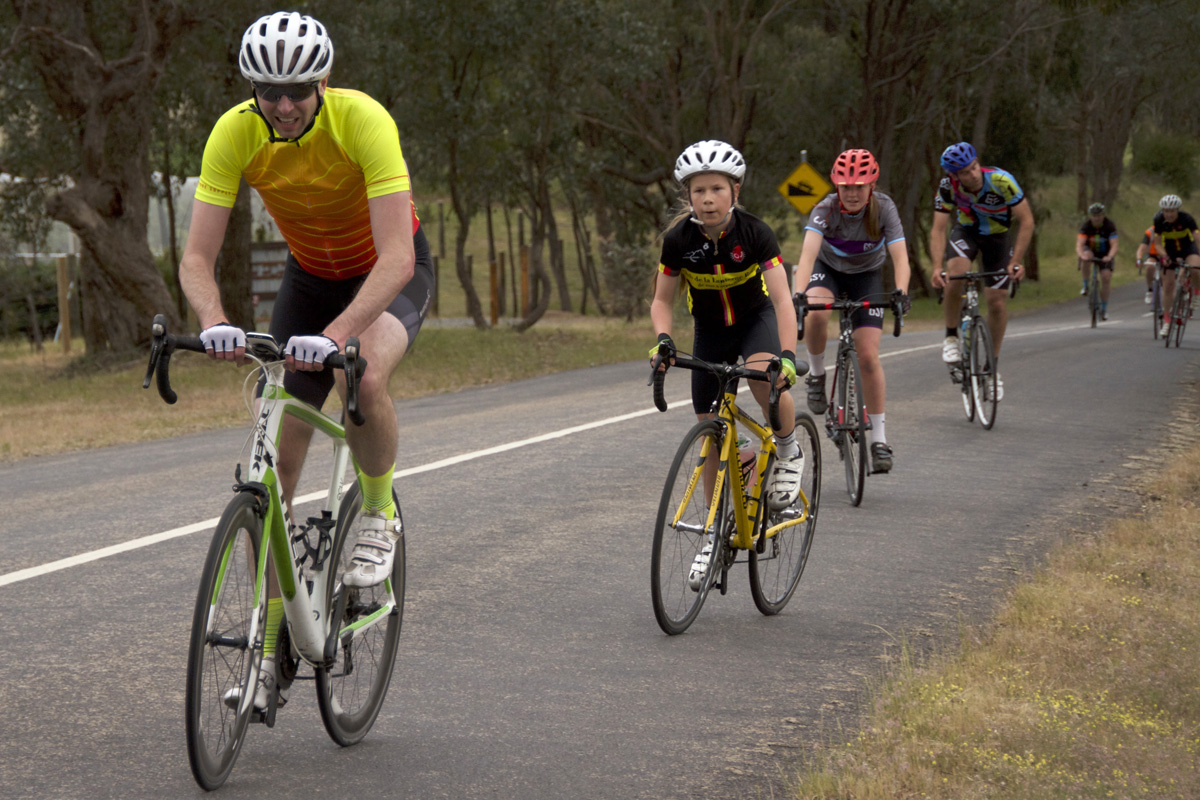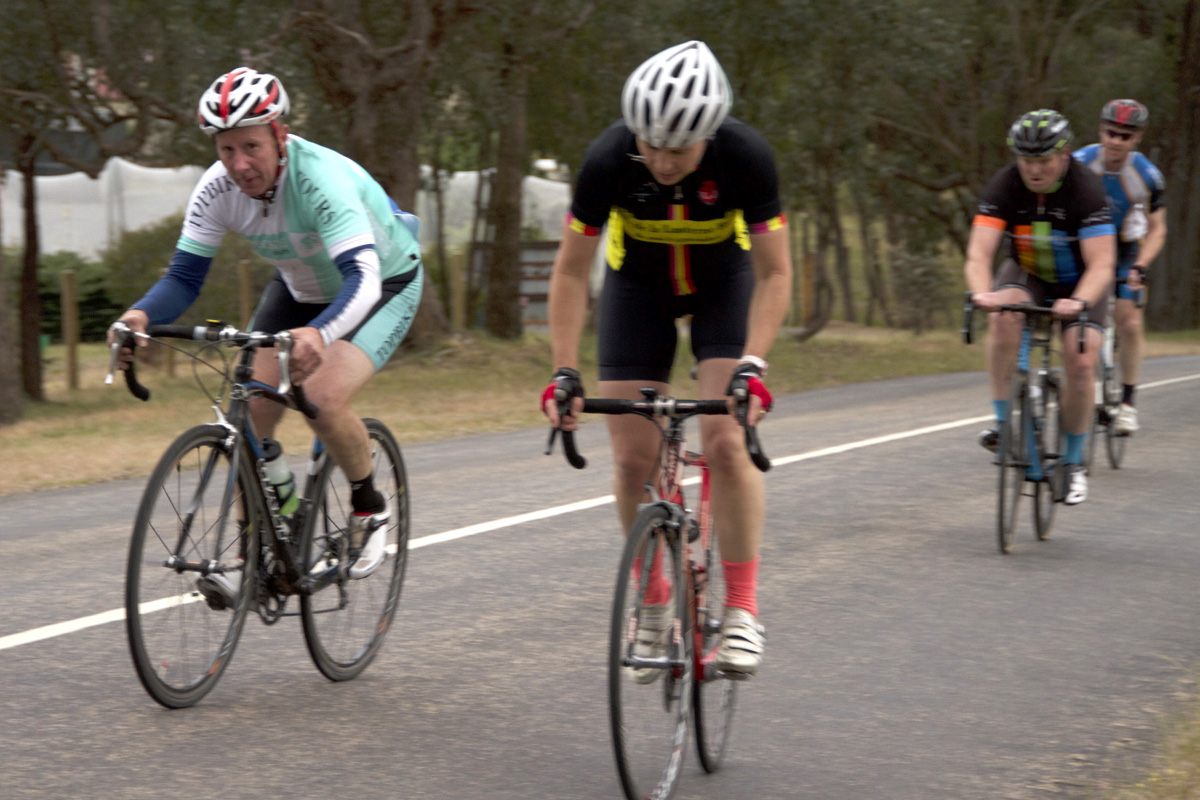 The Mur de Campagnolo
By Guillaume DeLaCroix
Record numbers registered to start the handicap race on Howes Creek Rd with racers ages ranging from pre-teen to the over 60's. The Howes Creek Rd course, with it's finale on the "Mur de Campagnolos" (Campagnolos/O'Hanlons Road Hill), is challenging to say the least.
The limit group of Deb Sallatenna and Ben Grundie opened the proceedings with a 20 minute and 30 sec start on the scratch group. The following group included three junior riders Tahlia Appleton, Bella Greene and, first time road racer Elise Empey, this group was well chaperoned by Rachael Grundy and the evergreen Tony "The Barber" Morris.
Five further groups started before the Scratch group of Dan "Evil" Purcell and Rob Curtis. The strength in the field was clearly in the second block group of 11 riders, these would be very hard to catch and very hard to stay away from.
Powerhouse, Anthony Plummer drove the big group throughout the race, making the racing swift and making the members of his group work very hard. Jarrod Appleton reported having to do "double turns" on Anthony's wheel. This proved to be a double edged sword for Jarrod in the finish.
As predicted the "Mur" would decide the eventual winner and so it did, with the field coming together to attack the short but sharp climb to the finish. Some climbed with style, some battled on and some just plain struggled. President Wil Wilson finishing with a time registered on a handy calendar.
As the sprint for the finish opened up, Dave Moore broke from the field for a classy "mountain goat" win, 4 seconds clear of Matthew Empey in his first road race who was followed 10 seconds later by Jarrod Appleton, perhaps grateful for the double turns provided by Anthony's big efforts.
Here are the results.
Matthew will be the rider to watch in coming weeks and I am certain that handicapper Eisner will be watching very closely.
Other new-comers included Dave Empey, Steve Duke, Donna Stephensen, Judi Duke and Courtney Lynch… the Club welcomes you all. The Club also celebrates the arrival of its newest racer, Hamish William Hopwood arrived on Monday 30 October, congratulations to Josh, Louise and Paris.
The Club always welcomes new riders of all ages and ability levels, so come and have a go at racing!
Next week will be "four–up sprints" contested on Graves Rd. This could be the event where the Bakker-Ross medal will be awarded.
Thanks to our volunteers and officials, without your assistance it would just be fast training.
Many thanks again to Tony Copland for the pics.
More thoughts on Thursday...
It was a shame to see a rider come down on Thursday night. Thankfully AJ wasn't badly hurt and thankfully it's not a common occurrence in MMBCC races.
While no one person was at fault, it seems to me some poor decision making contributed to the crash.
There's a good outline of the 'method' of road racing on this page - scroll down to Safe Road Racing and please have a read. What happened Thursday night isn't directly covered by the article but it's implied.
It doesn't matter which group you ride in, overtaking another group leading into a corner, is NOT a good idea. And when your group has already been overtaken by a faster group makes it even less of a good idea.
But to compound that by overtaking the faster group while coming into a corner and forcing the bunch to be five-wide around that corner is really NOT A GOOD IDEA!) It's little wonder that AJ was forced wide and onto the dirt.)
Commissaire Tim Ross gave a briefing before the race and asked for no more that two-abreast - please obey instructions from our officials, who volunteer their time to help keep us safe.
This coming Thursday is the Four-Up; a one kilometre sprint race. It's designed to allow you to practice the 'cat and mouse' of the sprint of a standard Handicap race; it's not just a 1km time trial. If you don't consider yourself a sprinter, this is perfect for you!
And hopefully, Thursday, week, when we're racing on the Coombesberg, everyone will stay upright and safe.
Cheers,
Bruce Halket,
Road Race Sub-Committee Chairman.
Bike riding helping kids with ADHD
Here's an article about Specialized helping kids in the States with ADHD and how bike riding has been added to their school's curriculum and the benefits of bike riding.