Lots to catch up on this week:
- Wrap-up of VDHS weekend;
- Club kit sales open again;
- First road race report of 2017;
- Ride with Phil Liggett;
- More volunteers wanted;
- Dirt Crit dates; and more!
Have you subscribed yet? Right hand side of club home page put in your email address and awaaaaay you go!
Huge Thank You
The dust has settled on a big weekend up the big hill.
202 riders kept it mostly rubber side down for round 4 of the Victorian DownHill Series. Thanks to all MMBCC members who volunteered time to course set (in the rain again!), help park cars and occupy marshal points over the weekend. Without you there would be no race.
Thank you all.
An especially big thank you to Ben Annear for all his hard work!
And congratulations to club members Charlie Jones, first in Under 15s, and Matt Empey, 6th in Under 17s, for great results.
Here are some photos on Facebook thanks to LR Productions.
Club kit sales open again
Seight Custom Clothing will open the My Team Shop again for MMBCC team kit this coming Friday, 27 January. It will be opened for orders until Wednesday 8 February. Use this link to order your preferred items. Email Bruce for the password you need.
Mountain bikers, please note that the short sleeve, 3/4 sleeve and long sleeve trail mtb jerseys have all been reduced in price - so get in now!
2017 Road Racing Underway
For the first race of 2017, the Cycling Club chose a short course of 20 km, starting at the BP Roadhouse and touring the Barwite Loop in an anticlockwise direction.
Some of the big names and big frames of the Club were spectating in Adelaide at the Tour Down Under and may regret missing precious points in the local championship.
Kieren Payne was first to start followed three minutes later by Kat McKean from Timbertop, our own Dr Flew and Gretchen Nadenbousch. Gretchen was returning to the bike after 10 years off and faced a tough night.
The well-seasoned Ian Conrick was a minute behind with John Eisner and his Pharmacy at his disposal.
These three groups got together as they reached Coombes' Hill but the climb soon split them.
The Handicapper must have assumed that the riders would be slow after indulging over Christmas but McKean proved him wrong by taking the lead and staying there until the finish. Payne did a good job to stay close behind and take second. Steve Flew also hung on well but after some early work for that bunch dropped away on the uphill turn into the Whitfield Road.
Meanwhile, midfielders Principal Tim Hall and Belinda Cipa teamed up for a strong ride leaving Will MacDonald and his Christmas Cheer on Coombes' Hill.
Rob Skinner did not have time for a Health Inspection as he left the start with the second last group, away in company with Aaron Peterson, in excellent form, Christine Hopkins and a new member, Sam Foura from Timbertop.
Hopkins, jetlagged from her Samoan holiday, dropped away early. She and MacDonald had plenty of time for a chat as they ambled home.
The Scratch riders of Purcell, Halket, Bakker, and another new member Andrew Irwin, began last but on the backside of the Coombesberg began to reel in the other competitors. They picked up Foura, who seemed to lack a little form, as well as his cycling shoes, and by the Whitfield road a peloton of about nine riders formed. At speeds of over 50 km/h they cruised towards the Botanic Park.
The finish line was on the uphill straight opposite the Show Grounds and the rise tested everyone. The youthful Dan Purcell pipped Flew for third and the more senior Halket took fifth.
Here are the results.
There will be no race on Australia Day but the following Thursday, the race starts at the Botanic Park at 5.30 for 6 pm. Text entries to Eisner on 0428 503 437 by 8pm Wednesday night.
Images below with many thanks to Tony Copland.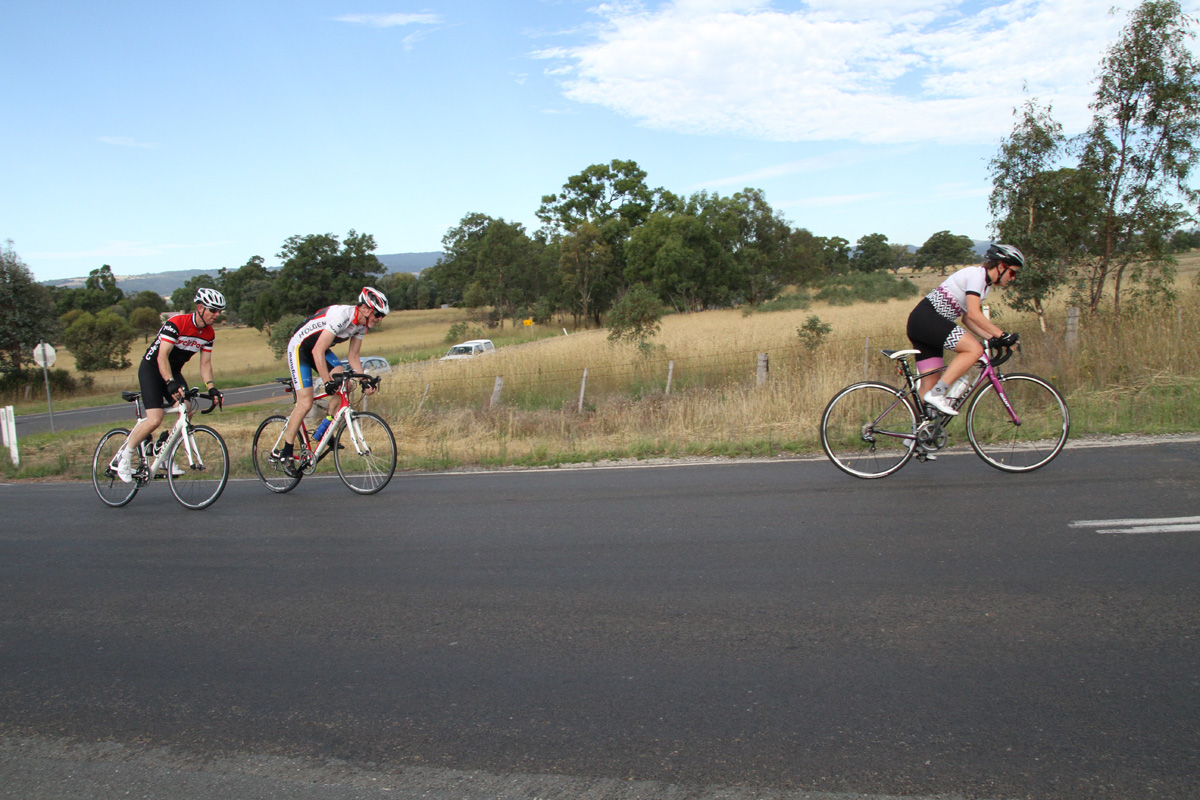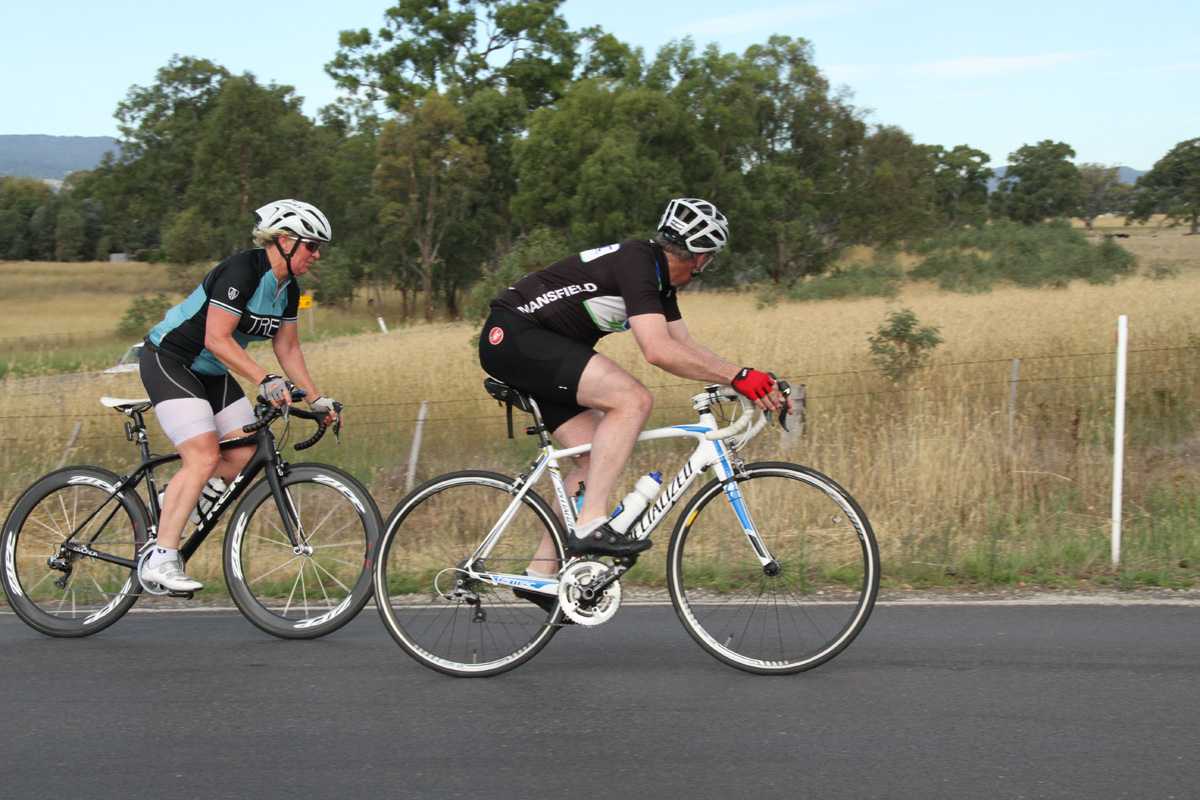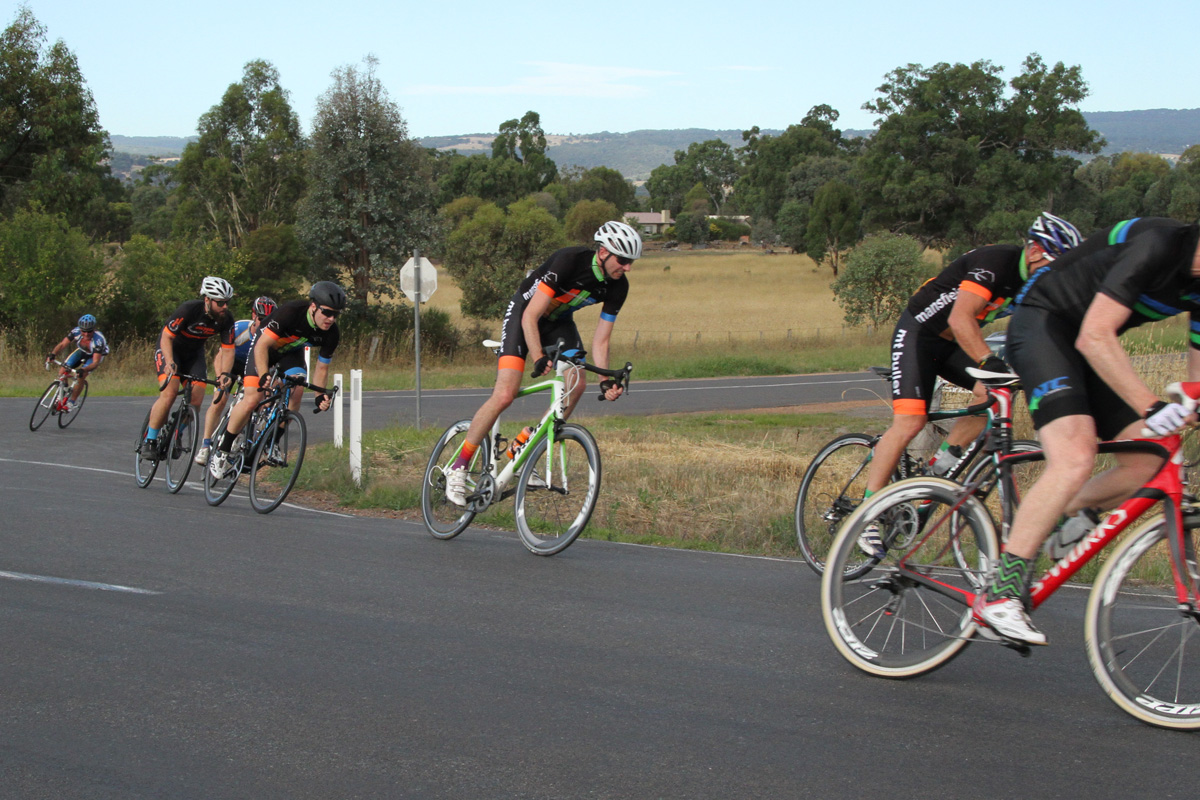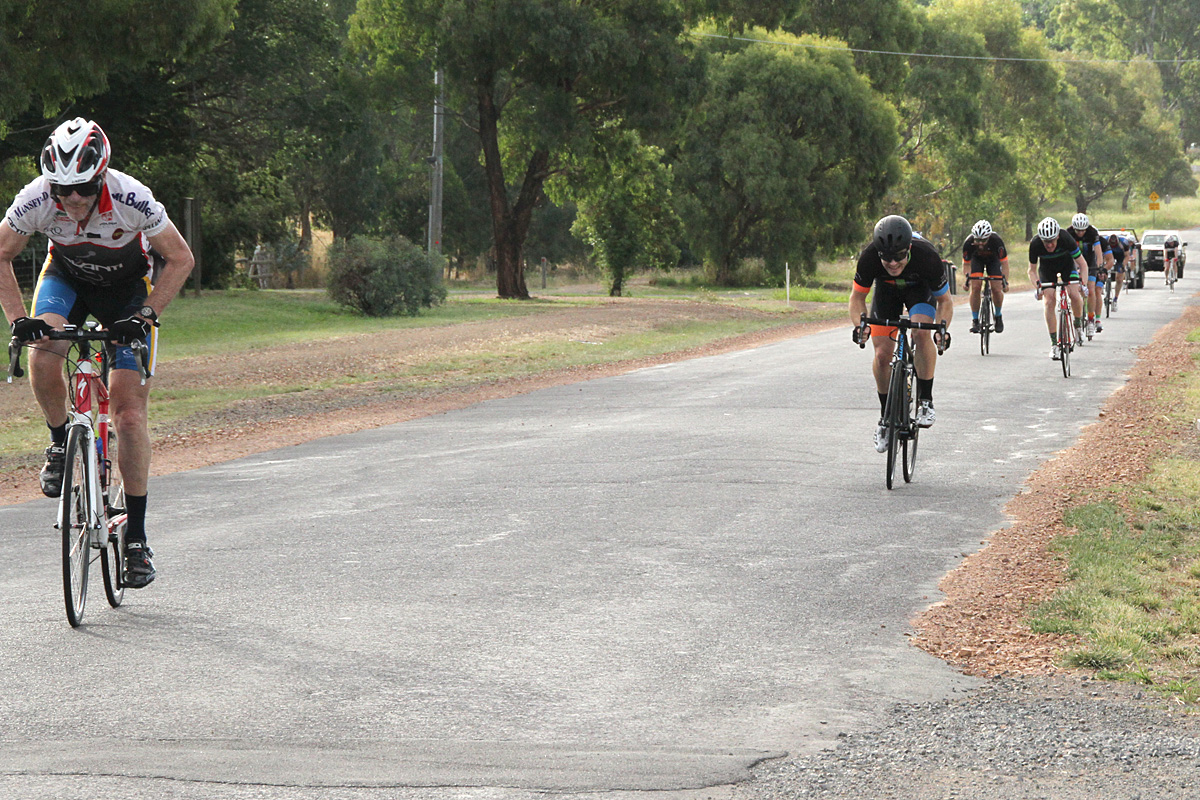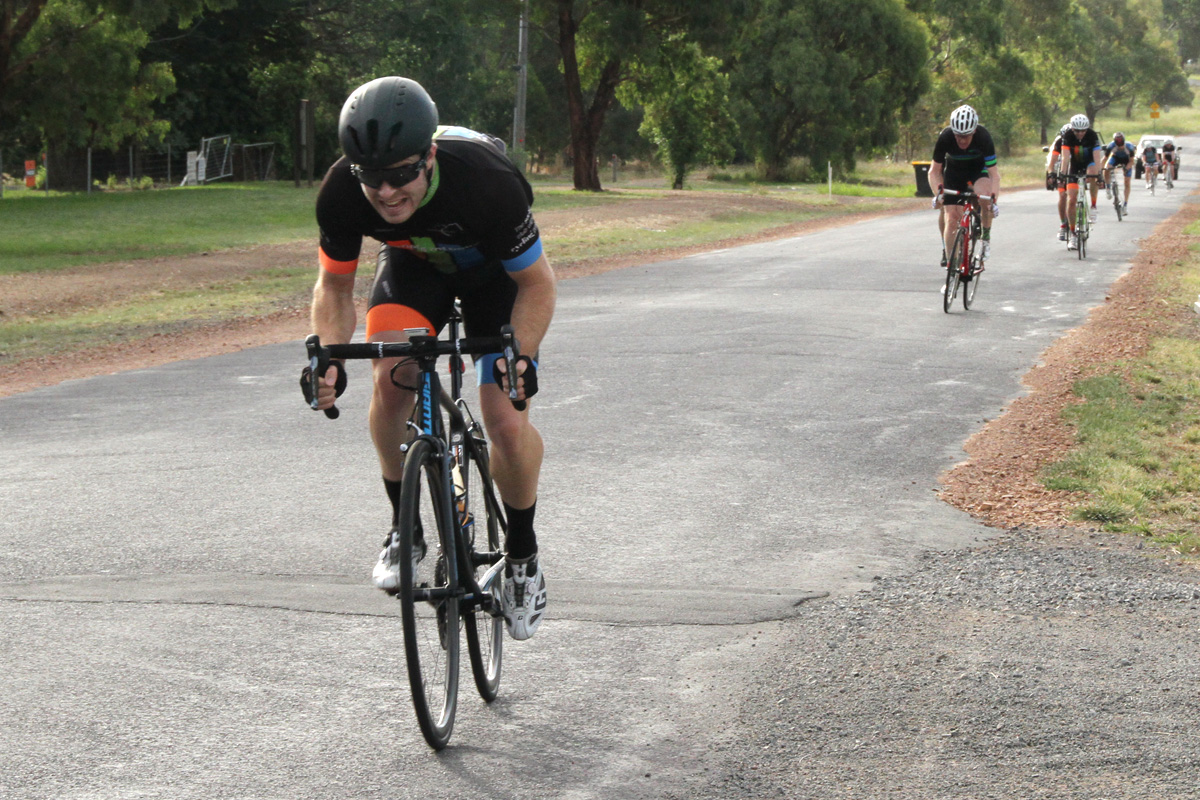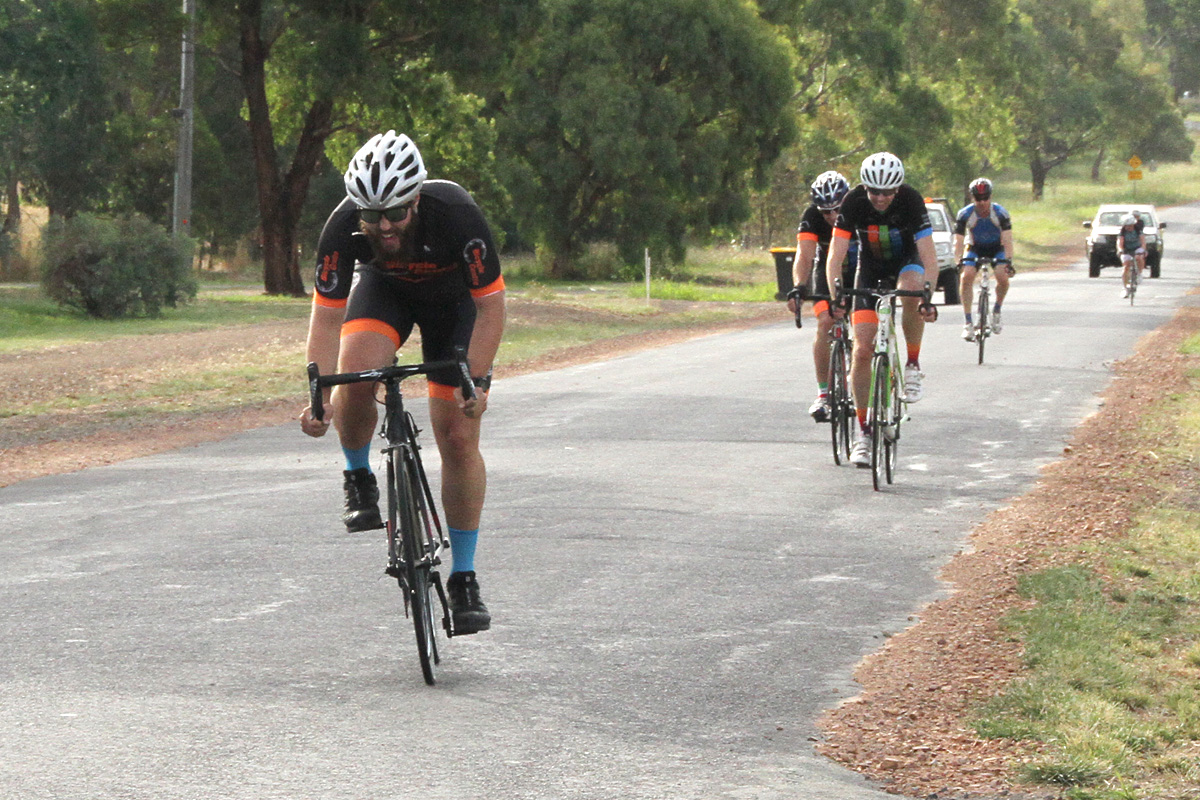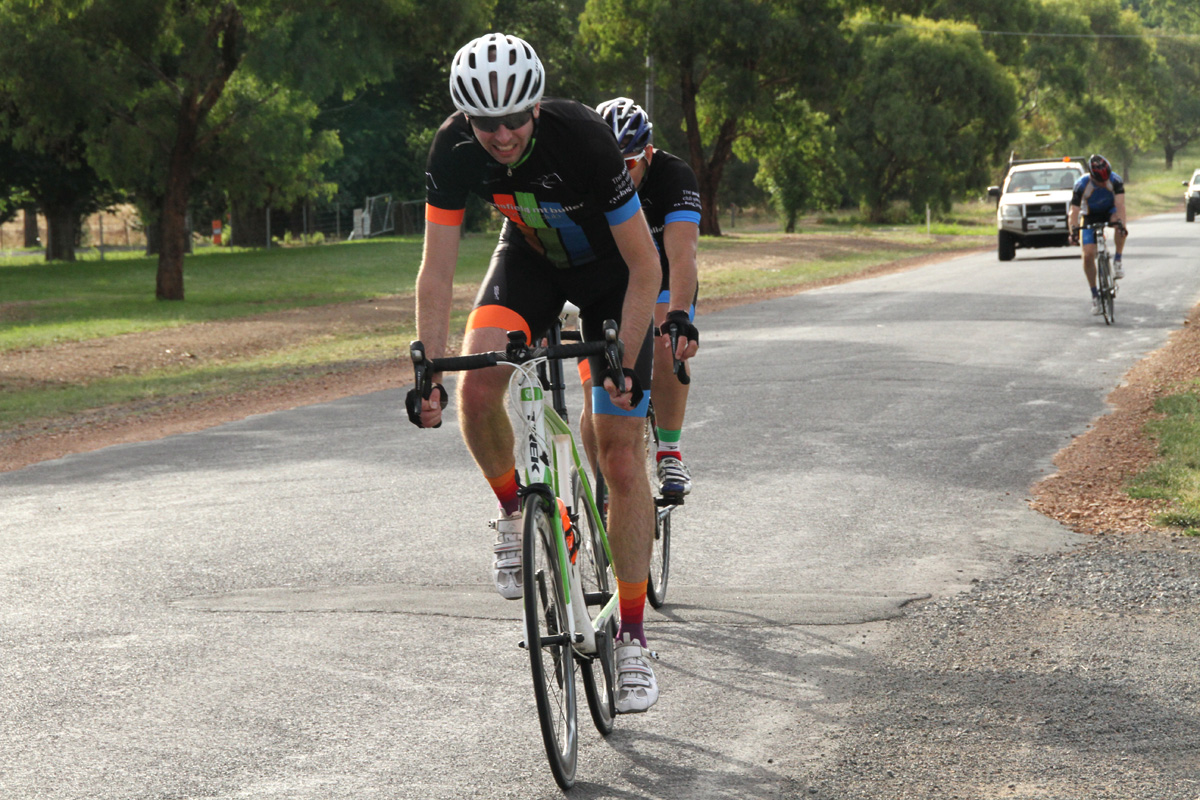 Ride with Phil Liggett
Phil Liggett has confirmed he will join Benalla and district riders for a ride before the start of Stage 3 of the 2017 Herald-Sun Tour on Saturday 4 February.
Entry fee for the ride will be $25 with all funds raised being donated to Motor Neuron Disease research.
Numbers will be limited so get entry in early!
Ride with Phil will start at 7.15am and finish at 9.15am. There's also a shorter 20km with former Australian Time Trial Champion and one time regular MMBCC road race entrant, Flick Wardlaw.
Chance to see H-S Tour riders (Froome/Chaves/Gerrans doing warm up 9.30am-10.30am). Stage 3 starts in Benalla at 10.30am.
Controlled bunch ride with support vehicles averaging approx 25km/h for a distance of 48kms. Cyclists will need to be able to keep with group as we will have to be back on time for Phil to meet his commitments.
Download an entry form here. Print it out, fill it out and either scan it and email it to Col Tattersall as it says on the form, or take it with you with $25.
Bike Buller Volunteers Needed
RAISE MONEY FOR YOUR CLUB BY BEING A PART OF BIKE BULLER
The Bike Buller MTB Festival is a 3-day festival of mountain biking races and events.
Rapid Ascent Pty Ltd, the event organiser is seeking volunteers to help at the event.
Event Date; 11th – 13th March 2017
Location; Mt Buller and surrounds
Rapid Ascent are happy to make a donation to your club/group/organisation based on how many volunteers your group provides. We will pay $50/half day or $90/full day per person. There is no minimum or maximum number of people required
Roles: We have a variety of roles/tasks ranging from course marshalling, manning water/fruit points, competitor registration and administration roles, logistics, competitor services etc.
This is a great opportunity for clubs/groups to raise funds with no behind the scenes work or pre-planning. Turn up with your members and your group receives the money. This is also a great chance for groups/clubs to have a fun weekend or day out with your mates while helping other to have a fun weekend.
Volunteers receive an event T-shirt and lunch.
For further information please contact;
John Jacoby on 0408 035 261 or john@rapidascent.com.au
Dirt Crits start again...
Dirt Crits start again for Seniors on Monday 30 January. Juniors kick off for 2017 a week later, Monday 6 February.
Whittlesea Challenge coming up
Cycling Victoria has moved one of our favourite recreational rides, The Whittlesea Challenge, back to Autumn after being in Spring in 2016. Mark Sunday 30 April in your calendar for a good day on the bike.
Finally...
Apparently a new coffee shop is opening in Mansfield, after a successful debut in Adelaide at the Tour Down Under last week.